Viet Nam: A destination that eludes all categorizations…
One of the biggest things that have given me pleasure and enchantment is the very moment that I arrived here in this fascinating country of Vietnam. Though I am a firm supporter for the fact that places of beauty exist in all nations, including my country Philippines, I have to admit that lots of places have the charm and lure that Vietnam is able to show.
Viet Nam: A destination that eludes all categorizations…
My first month of stay here already proved that 6 months will not be enough for me as a tourist and a teacher at the same time. J Because Vietnam has so many cultures and historical places that Vietnamese people can be proud of, even the simplest ones that are worth experiencing. First are the people who are very friendly and hospitable ever since I, together with my other Filipino co-teachers, arrived here, the ITC and AEP staff who gave a warm welcome, the students who are very respectful and who are passionate to learn English, and even the vendors who are very patient in providing friendly services to foreigners like me.
The life here is more beautiful at night because of the lights coming from buildings, stores, trees, fountains, cars and mostly motorbikes. But my amazement will not just end at night of course, because I witnessed the beauty and picturesque of the most famous place in Vietnam, Ha Long Bay from top to bottom. The long journey is really worthwhile as I had the chance to meet and be accompanied by some of the AEP Staff who were there to guide us during our stay there.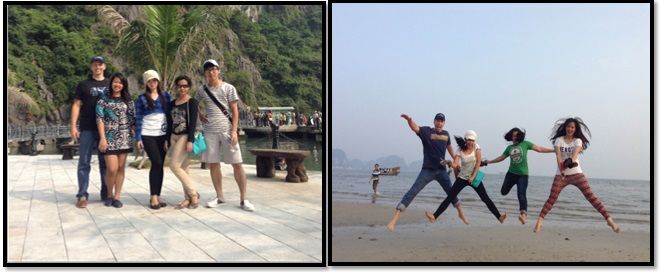 I am very thankful and very blessed because I was given this once in a lifetime opportunity to have my Off-Campus International Practice Teaching in Thai Nguyen University of Agriculture and Forestry, Thai Nguyen City, Thai Nguyen Vietnam.
Jan Marini Manlutac Tobias
Filipino Student Teacher,
Laguna State Polytechnic University SCC, Philippines